Home » Breakfast » The Daily Menu, Prices And Locations
The Daily Menu, Prices And Locations
The Daily
Average rating:
0 reviews

Get verified information about The Daily Menu, Price and near me locations.
The Daily Main Menu
BREAKFAST (7 3) MENU
BREAKFAST (7 3)
TURKISIH EEGS Price: $8
2 poached eqs. seasoned yogurt. paprika butter, toast points
AVOCADO TOAST
Avocado smash, griddled house bread, cottage cheese, pepitas, garlic
GRiDDLED BANAIJA BREAD Price: $7
Sweet ricotta cheese, seasonal fruit
BREAKFAST SANDWICH Price: $6
House bun, fried egq, aloli, cheddar, choice of applewood bacon, karabuta ham, or avocado
LOADED TATERS Price: $6
Russet taters confit topped with cheese, sour cream, scallions 5 bacon
SANDWICHES (SERVED 11 3)
CHICKEN SALAD SAND ICH Price: $8
basted baguette. cashew, bread & butter pickles
PORI BELLY SANDWICH Price: $11
House baguette, pork belly. Korean bbq sauce, slaw
SHRIMP TOAST Price: $11
House challah, avocado, crispy shallot
BLI Price: $ 10
House white bread. mayo. iceberg lettuce. heirloom tomato, bacon
SOUPS (SERVED 11 3)  MENU
WATERMELON GAZPACHO Price: $4 cup/$6 bowl
Watermelon, tomato red onion, olive oil, red pepper, cucumber. garlik
TOMATO SOUP Price: $4 cup/$6 bowl
Made With bread, EVOO
V Veqetarian GF. Glulen free
BOWLS & PLATES (SERVED 11 . 3) MENU
CHICKE & RICE (KHAO MAN GUI) Price: $5
Jasmine rice, chicken leg and thigh, cilantro, jalapeno, cucumber, broth
ADOBO BOWLV Price: $11
Quinoa. farro. (hk:kpeaS. lentils, cabbage, jalapeno. avocado, coconut adobo dressing
LENTIL BAW Price: $8
Roasted seasonal vegetables, tomatoes. griddled scallions. Turkish yogurt
SALADS (SERVED 11 3)
CAESAR SALAD Price: $ 8
(hopped romaine hearts, (aesar dressing. anchovy crumble, crispy parsley
COBB SALAD Price: $13
Mixed greens, chicken. egg, tomatoes, scallions, blue cheese, bacon, creamy cottage cheese dressing
TOMATO & AVOCADO SALAD Price: $8
Arugula, heirloom tomato, red onion vinaigrette
CHICKEN SALAD Price: $ 10
Avocado. bread 5 butter pickles, cashews, adobo dressing
The Daily Speciality Drinks Menu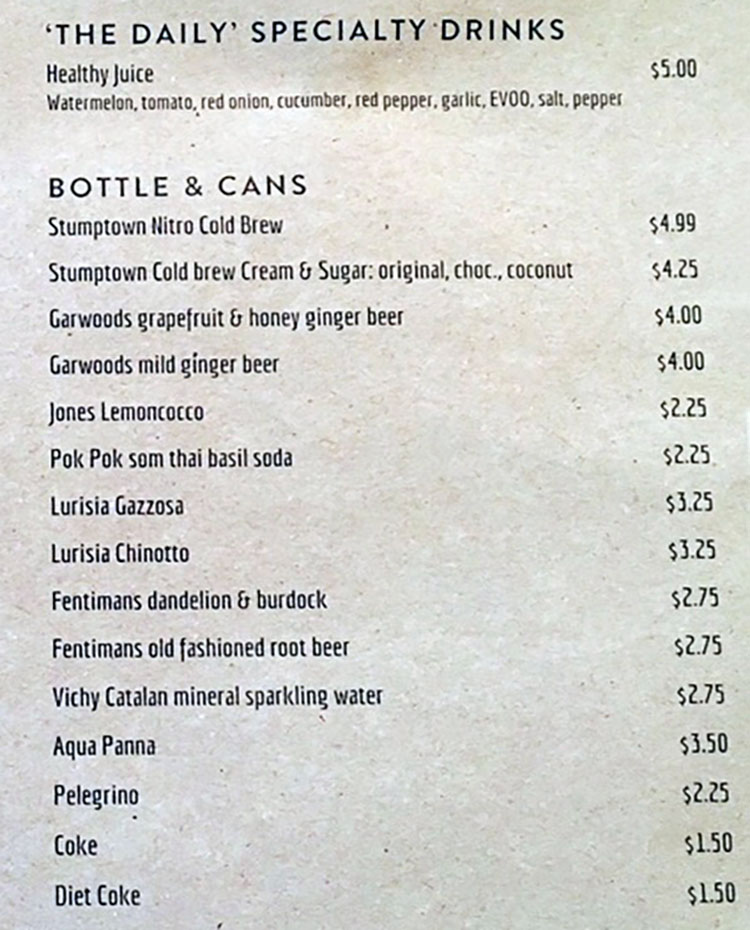 Espresso Menu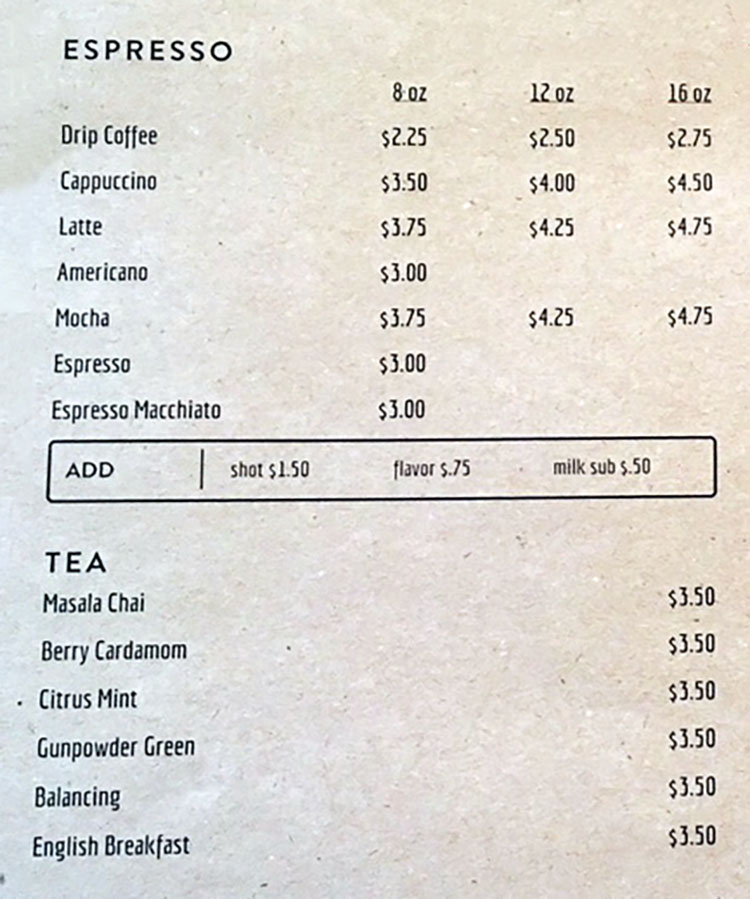 The Daily Near Me Locations
Please, search The The Daily ME locations from the map below. if you find your nearby The Daily location, click on the map shown below and nearest The Daily location around you will automatically pop up on your map. Also, use this The Daily locator tool to find The Daily near me.
The Daily Hours
| | |
| --- | --- |
| Monday | 7:00 a.m. – 6 p.m. |
| Tuesday | 7:00 a.m. – 6 p.m. |
| Wednesday | 7:00 a.m. – 6 p.m. |
| Thursday | 7:00 a.m. – 6 p.m. |
| Friday | 7:00 a.m. – 6 p.m. |
| Saturday | Closed |
| Sunday | Closed |
The Daily Coupons
Who doesn't love to save a little cash? With that in mind, we're always rounding up as many restaurant coupons and discounts. Check the current offers below and get saving at your favorite restaurant right away.
About The Daily
The Daily is a restaurant and he provides Special fast&food and breakfast. He Located in 222 Main St Suite 140, Salt Lake City, UT 84101, USA.
Hopefully, We helped you to get some information of the The Daily menu, price and location.
Use below review form to discuss your experience have had with The Daily. So other people can find it useful. You can find contact details for The Daily listed above.
Also Read: Fajita Grill Menu, Prices and Locations
Submit your review

Submit

Cancel
The Daily
Average rating:
0 reviews
About Author
superadmin